BLUES IN THE NIGHT

A man gives three very different women plenty of reasons to sing Blues In The Night in ICT/Ebony Rep's thrilling revival of Sheldon Epps' Tony-nominated Broadway musical revue.

 The Lady From The Road (Vivian Reed), The Woman Of The World (Karole Foreman), and The Girl With The Date (Jenna Gillespie Byrd) burn up the ICT stage belting out a couple dozen early 20th-century blues classics by Duke Ellington, Johnny Mercer, Harold Arlen, Vernon Duke, Gordon Jenkins, and torch song legends Alberta Hunter and Bessie Smith.
 Reed recalls her shimmying days of yore in "New Orleans Hop Scop Blues" and Foreman remembers the nights she spent "Stompin' at the Savoy" while the still hopeful Byrd declares herself in the mood for "Takin' A Chance On Love," to which The Man From The Saloon (Chester Gregory stepping in for Pariss D. Mann on Opening Weekend), has no choice but to respond with "Wild Women Don't Have No Blues."
 Sexual innuendo abounds in Reed's "Take Me For A Buggy Ride" (Who knew a parasol could give a woman so much pleasure?) and double entendre reigns supreme in her "Kitchen Man" ("His frankfurters are oh so sweet. How I like his sausage meat."), both songs courtesy of the one-and-only Bessie.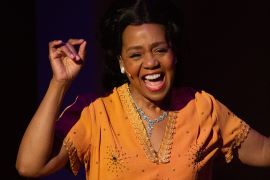 Foreman's "Rough And Ready Man" may be decidedly un-PC with lyrics like "I don't want no man that's lazy, no man that tries to shirk," but what woman doesn't want "a two-fisted, double-jointed, rough and ready man," and just wait till Byrd launches into "Willow Weep For Me," an early-1930s Dinah Washington-Ella Fitzgerald-Nina Simone classic that she makes exquisitely her own.
Meanwhile, Gregory (reprising for one weekend only the role he played at The Wallis a few years back) shows up from time to time to give all three women reason to get hot-and-bothered with his trademark silky, seductive pipes in "I'm Just a Lucky So and So" and "Baby Doll" while dazzling them with the most irresistible smile in town.
 Still, under Wren T. Brown's pitch-perfect direction, this is the gals' show all the way with sultry stunner Foreman and effervescent charmer Byrd revealing some of musical theater's finest vocal chops in song after song after song, and Reed (who earned her first Tony nomination way back in 1976 for Bubbling Brown Sugar) proving the stuff legends are made of in one show-stopper after another, with Keith Young choreographing some snappy dance numbers along the way.
Blues In The Night looks absolutely terrific on scenic designer Edward E. Haynes Jr.'s elegant three-boudoir set, gorgeously lit by Donna Ruzika, and the cast couldn't look more sensational than they do in Kim DeShazo's slinky mid-20th-century costumes topped by Anthony Gagliardi's just right period wigs, with snaps too to Patty and Gordon Briles for their meticulous properties design.
Last but not least, the production sounds just as fabulous as it looks, thanks not only to its cast's sizzling vocals but also to musical director-conductor-pianist William Foster McDaniel, joined by Del Atkins on bass, Clayton Cameron on drums, Scott Mayo on woodwinds, and Fernando Pullum on trumpet, with John Feinstein providing a pitch-perfect sound design mix.
Blues In The Night is produced by caryn desai. Mary Michele Miner is production stage manager and Justine Perri is assistant stage manager. Casting is by Michael Donovan, CSA, and Richie Ferris, CSA. Lucy Pollak is publicist.
 The ladies may be singing Blues In The Night down Long Beach way, but the International City Theatre season closer (produced in association with Ebony Repertory Theatre) proves a joyous grand finale to a year that began with three virtual productions before a much-anticipated return to the Beverly O'Neill Theater in August. I guarantee you'll be singing its praises all the way home.