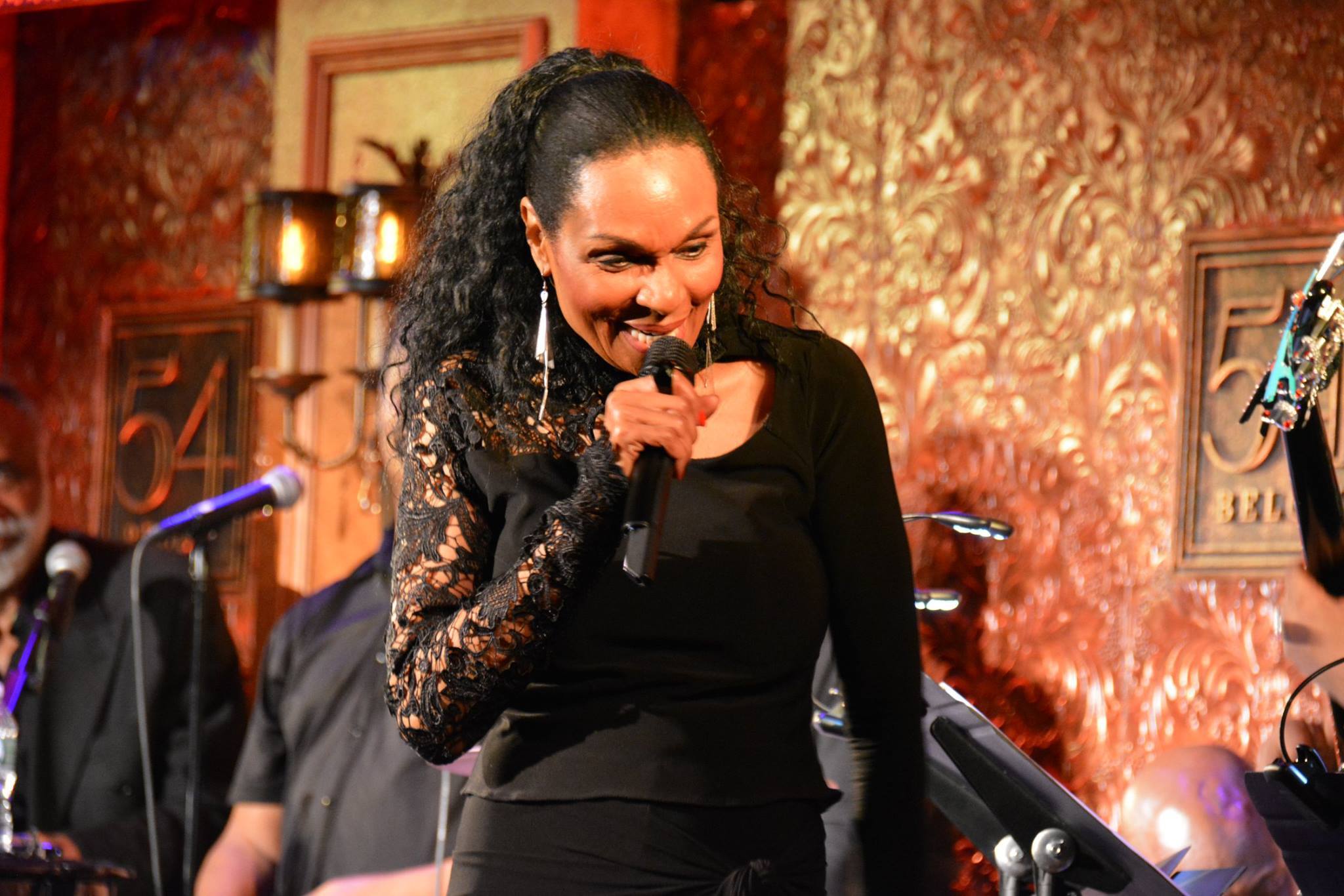 As soon as Vivian Reed sang, "Oooh, baby, here I am signed, sealed, delivered . . ." I was hers.
Ms. Reed couldn't possibly have known my favorite Stevie Wonder song and, truth be told, I'm really not that easy. But after she cooed just a few soulful bars of that classic Motown tune from the wings at 54 Below, Reed entered the room exuding such star power that my soul was set on fire and it would remain aflame for the next 75 minutes. By the time my internal embers had cooled, I'd realized I had just seen one of the most exhilarating cabaret/nightclub shows so far this year, and it will take something really special over the next eight months to top it.
In the late '70s, Reed captured a Tony Award nomination and won a Drama Desk Award for her work in the Broadway musical Bubbling Brown Sugar, and although Reed has delivered some critically-acclaimed work in the many years since (a Tony nomination for the 1992 musical The High Rollers Social and Pleasure Club and a star turn in the revue Three Mo' Divas), during the last decade she had gone and stayed away too long, mainly to take care of her ailing mother. Last November, she dipped a toe in the New York nightclub waters, producing a one-night show at 54 Below that was highly praised and offered hints of great things to come. But this past Monday night–the first of what will ultimately be a three-show run of "An Evening With Vivian Reed" (the next dates are May 20 and June 19 at 9:30 pm)–this performing powerhouse established her return in earnest. With Reed's still expressive voice tackling musical genres ranging from R & B to Jazz to Great American Songbook standards to Gospel (even a dash of Opera), her electric and passionate show was cabaret/nightclub performing as revival meeting in more ways than one. Reed is not only reviving her singing career, she is inspiring impassioned converts at the same time. If the folks who run the various cabaret and nightclub awards programs (i.e. the Nightlife Awards, the Bistros, the MACs, and, of course, the BroadwayWorld Cabaret Awards) are looking for a Comeback of the Year for 2014, they may have their candidate already.
Reed looked lovely, lean and leggy in a black blouse over black slacks with sexy lace up the sides as The Vivian Revival got off to rhythmic start with Oleta Adams' up-tempo gospel/blues "Circle Of One." The singer could have been offering the song's third verse as her comeback statement: "I was caught in the middle of a rock and a hard place . . . And I needed a soft place to fall . . . Then you showed me the reason to rely on my feelings . . . I had nothing to fear at all." She certainly had nothing to fear performing for this supportive audience, which seemed poised for a standing ovation after every number, especially after Reed worked the entire stage, showed off her still sinewy dance moves, and rocked the room on the 1966 Sam & Dave hit, "Hold On, I'm Comin'." Pulsating orchestrations consistently emanated from her five-piece band (including Jason Yarcho on piano, Ray Naccari on synthesizer, Clyde Bullard on bass, Damon Duewhite on drums, and Henry Young on saxophone) and her background singers (Chapman Roberts, Raun Ruffin, and Bertilla Baker) provided solid and unobtrusive support. While there were seven others on the 54 Below stage with Reed (it was so tight up there Young actually had to play his sax from off stage), she had such command of the room it almost seemed as if she was up there alone.
During the show's middle section, Reed, whose singing career as a dramatic soprano began at the Apollo Theatre in Harlem, displayed her love of classic American standards, Billie Holiday, and composer Harold Arlen (who made his musical bones writing songs in the 1930s at Harlem's Cotton Club). Two Holiday classics, "Lover Man" and George Gershwin's "The Man I Love" were delivered as a sensual and seductive blues-sounding mini-mash up with a gospel flavor. "You haven't heard this song sung like this before," Reed crowed during a blues/gospel arrangement of Harold Arlen and Johnny Mercer's "Come Rain or Come Shine," which transitioned into a borderline disco beat and featured Reed doing sexually suggestive pelvic thrusts. In one of her many humorous asides during the show, she pointed to her groin area and offered how she "used to get this all the way to the floor."
The show suddenly turned serious and solemn when soprano Andrea Jones Sojola (who has starred in a tour of Three Mo' Divas) joined Reed on stage for the anti-racism song "Strange Fruit," originally made famous by Billie Holiday in 1939. Sojola opened the number with a soaring operatic aria before Reed took over on the bluesy ballad, which culminated with another standing ovation. Then Reed's jazzy hot vocal arrangement of the Peggy Lee classic "Fever" (which featured a terrific sax solo from Henry Young) had me breaking out in a sweat after just the first couple of verses.
Musical Director Fred Barton, who with director/choreographer Scott Thompson, is working on a new musical tribute to Harold Arlen called One For My Baby, took over on piano to join Reed for a three-song tribute to the composer of classics like "Somewhere Over the Rainbow." Reed showed off her still solid soprano chops on the character ballad "I Wonder What Became of Me," and displayed her full vocal range on a powerful rendition of "Blues In the Night" (both songs with lyrics by Johnny Mercer). But those numbers seemed just a prelude to what came next. Guest singers Luba Mason and Anastasia Barzee joined Bertilla Baker and Reed on stage for what was one of the best four-singer arrangements I've heard in cabaret on a mash-up of Arlen's "Stormy Weather" (lyrics Ted Koehler) with "The Man That Got Away" (lyrics Ira Gershwin). Baker and Mason alternated on the familiar opening lines of each classic before Reed and Barzee joined the vocal party. Somewhere Lena Horne and Judy Garland (not to mention Arlen) were wildly applauding, as was the entire 54 Below crowd.
It was back to Billie Holiday for Reed's bluesy rendition of "God Bless the Child," which the singer revealed was one of her late mother's favorite songs. Even without the microphone at the end of the number, Reed's "Bless! Bless! Bless!" reverberated through the club. On the song's button, Reed extended her arms to the ceiling, not only in triumphant glory but also as if she was trying to connect with her mom one mo' time. After a raucous audience-participation reprise of "Hold On, I'm Comin'," Reed again eschewed the microphone to cruise the entire room and offer an emotional take on Jule Styne's "Time After Time" (introduced by Frank Sinatra in the 1947 film, It Happened in Brooklyn).
Time after time, I tell myself that I'm
So lucky to be loving you
So lucky to be the one you run to see
In the evening, when the day is through
Based on the final standing ovation, the audience made it pretty clear they felt like the lucky ones who ran to see Vivian Reed when their day was through. In my case, I'll just put it this way: Vivian, signed, sealed, delivered . . . I'm yours!